Goodbye, Zoom! Open source video conference tools
How we manage online meetings at LaceWing Tech
Jun 18, 2020 by Laura Wadden
We at LaceWing Tech have the same problem as everyone else - how do we meet online in a sustainable, user-friendly, yet secure way? We spent a few months testing various tools and eventually settled on Jitsi-Meet. It's open source, easy to use and has all the features one needs for everyday work and meetings.
2 min read
The options
There aren't *that* many open source video conferencing alternatives and only two are good: Jitsi-Meet and BigBlueButton (see diagram, credits: Swecha).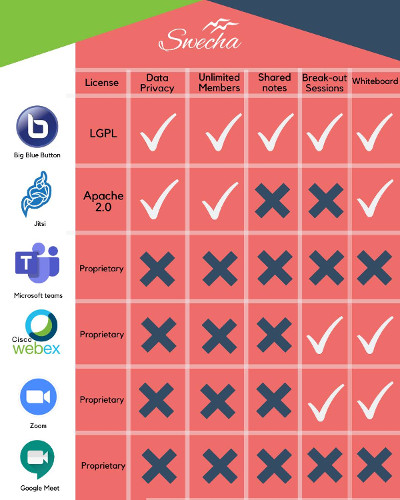 Both are open source and usable, but good at different things. BigBlueButton is best for presentations and events because it is more powerful, more stable, and has more shiny features — but it takes a lot more resources. Jitsi-Meet is perfect for day-to-day work because it is simple, has just what we need, and uses less resources.
Other products we tested:
Wire: we use the free Wire version for our team chat and 1-1 video calls. We tested Wire's 'Teams' product for multiple-person video chat and it did not offer enough additional features to be worth the cost.
Nextcloud Talk: we do not recommend using Nextcloud Talk (yet!) because it is painfully unusable. We will continue to test as the tool improves.
Jitsi-Meet in a 10-person team — it just works
For LaceWing Tech's daily grind, Jitsi-Meet has all we need: screensharing, mute/unmute audio and video, chat, "raise hand", tile view (as opposed to speaker view), and more.
I have about 4-5 calls per day, mostly on Jitsi, and rarely have problems. I might experience the inevitable "Can you see me? Can you hear me?" dance for 2-3 minutes, but afterwards, things go relatively smoothly. Calls with more than 8 people are also no problem. The setup is easy and the interface is approachable - I can send someone a simple link and they can join from the browser (or on their phone).
Look at these happy people: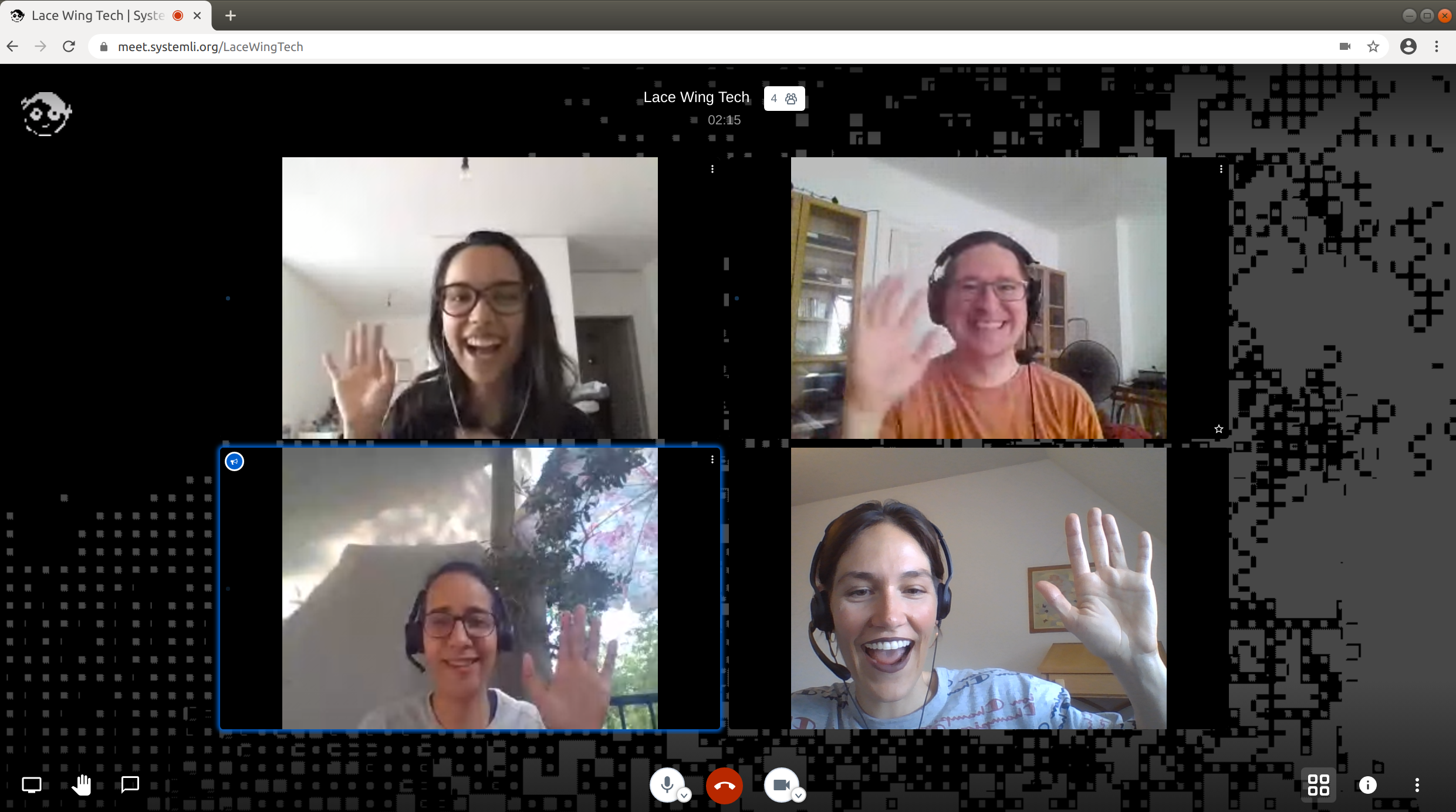 However, when someone has internet problems, things are still tough. Our professional IT tip? Swear at the computer and pray. Other than that, for important meetings I try to have a backup plan ready so that if we're unlucky, everyone knows what the next steps are.
Jitsi does a great job of keeping audio consistent while video might lag - so if video freezes, you can still have a smooth experience of the meeting. Sometimes we turn our video off to help improve quality.
Jitsi-Meet supports 10 simultaneous users easily, 20 are possible, and 50 are reported possible, but probably require a rather fine-tuned server setup. Though Jitsi-Meet is not yet end-to-end encrypted for more than two participants, working prototypes are already deployed and tested.
Usability/User experience depends on a combination of reliability of internet connection, client, and server setup. Not all Jitsi servers (e.g., https://meet.systemli.org) are created equal, so thank you to Systemli, a Berlin tech collective and friends of ours, for providing such a stable experience! Kudos also to the Jitsi-Meet team for building and maintaining a user-friendly alternative to 2-billion dollar Zoom. It's not easy to do, especially when larger companies can spend unlimited amounts of money on User Experience (UX) Designers.
What's Next? Jitsi-Meet at LaceWing Tech
In the future, LaceWing Tech will offer Jitsi-Meet as a product. Subscribe to our newsletter to get the latest updates.